🔥🔥Don't hesitate to add this product to your shopping cart!🔥🔥
There's nothing like lighting your grill when summer comes, but it's no fun scrubbing it clean afterwards. Our Hirundo non-stick grill mats help you enjoy your juicy burgers and kebabs without the tedious consequences. They keep grease and food off your grill and are a breeze to clean.

100% NON-STICK SURFACE FOR BETTER TASTE AND HEALTHIER MEALS:

100% non-stick means that you can grill without fat and the mat can be reused for years. You can also use it to bake pastries so you don't have to use disposable parchment paper (eco-friendly). It also prevents even the smallest bites from falling through the grids.

OUTSTANDING HEAT RESISTANCE:

These grill cooking mats are made of heat-resistant, technologically advanced materials, but they are similar to a plastic mat. These mats are heat resistant up to 500 degrees Fahrenheit!

DISHWASHER SAFE:

Makes grilling easier and completely ends messy grill cleaning! These mats are safe to use on the top shelf of your dishwasher. Cleaning is a breeze!

ROBUST & DURABLE:

These sturdy, reusable mats won't retain any smell or taste from previous cooking, and the super-durable PTFE non-stick coating means everyone will be with you through years of grilling.
Wide application:
They are not only ideal for standard grill dishes such as burgers, chicken wings and sausages, but can also prepare a full breakfast on the liner and, thanks to the excellent non-stick material, even fry an egg without oil.

Food cooks in their juices for maximum flavor and even though they are cooked on the liner, you still get the traditional grill lines on your food. These liners are ideal for gas and electric grills and can also be used with care on charcoal and wood grills.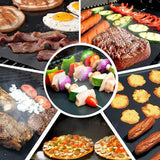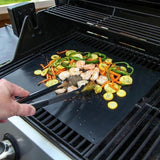 Satisfied customers love this grill mat!
"Super grill mats"
Great grill mats, people keep asking myself how to burn holes like this. They should take a barbecue course, everyone knows that you don't grill over an open flame. The same is when I wash my car without water. So to the product, I will buy again and again!
"It is very easy to clean"
A great gadget for every barbecue party. The grill mat is ideal for grilling, it is very easy to clean. The taste of the meat is great despite the mat and the marbling of the meat is great.
Specifications:
Material: Teflon-coated fiberglass fabric
Size:33x40cm
Thickness:0,2 mm
Colour:schwarz/ gold
Scope of delivery:
🔥Hot Sale🔥BBQ rugs for grilling & baking